I saw a post on Girly Dos about a family that has a little girl that is dying from cancer. There is a blogger who is giving money to this family. They will give $1.00 for each comment that is left on the post. Please visit the blog and post a comment. They are doing the donating, not you.

http://theextraordinaryordinary.blogspot.com/2009/01/we-get-by-with-little-help-from-our.html


I visited the blog belonging to Tuesday's family. You can visit it by clicking on her picture below. The story is hear wrenching. The last post is of a family preparing to let go and building their final precious memories. I cried as I read the sweet and sad posts of a mother who must say goodbye much too soon.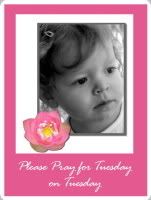 Update: There was a simple post on their blog tonight...


Tuesday Fiona Whitt - October 11, 2006 - January 30, 2009